In my
last post
I looked at gauging the public mood in America using Google Trends. This morning I punched in a few more terms. The results reinforce my findings yesterday which indicate that there's a lot of unease out there about a potential economic crash.
First, looking for "gold standard" and "precious metals" gives us these two graphs, which lead me to believe folks are losing confidence in our money system: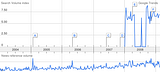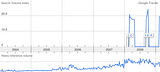 And "food storage" shows are sharp increase, revealing concern about either future scarcity, future inability to pay for food, or both: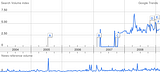 Finally, searching for trends on "ammo" possibly revealing uncertainty about things in general, including future availability:
Click on the thumbnails for full size graphs.