I'm posting this from Ubuntu Linux running inside the beta
VMWare Player
. The Player is more-or-less a stripped-down version of VMWare Workstation that allows you to run virtual machines created on the full version of VMWare. The Player is free, like Microsoft's Word or PowerPoint Viewers.
Along with the VMWare Player, I downloaded the Browser Appliance virtual machine, which is a preconfigured install of Ubuntu that boots you into a Gnome desktop running Firefox. It's pretty slick, IMO.
This is my first time playing with Ubuntu but so far my impression is favorable. I didn't need to futz around with anything to get the fonts looking good and networking just worked. Here's what it looks like: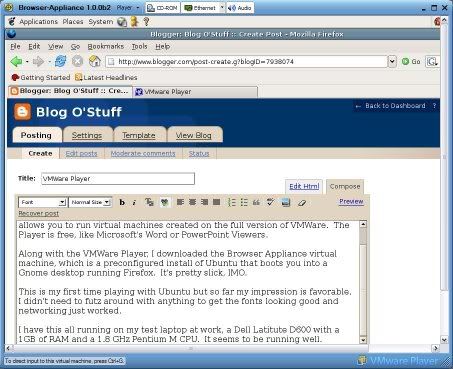 I have this all running on my test laptop at work, a Dell Latitute D600 with a 1GB of RAM and a 1.8 GHz Pentium M CPU. It seems to be running well.