I picked up a Nikon Coolpix S560 point-n-shoot digital camera over the weekend to replace my 2001-vintage Sony DSC-P50. The Sony still works but it's only a 2.1 MP camera, while the Nikon has a resolution of 10 MP at its highest setting. The Nikon is also smaller (pocket sized) and accepts larger memory cards. I got an 8 GB SDHC card to go along with the 44 MB memory that's built-in.
The Nikon uses a rechargeable Li-Ion battery, something I wanted rather than AAs. It came with a charger. The Sony battery could be recharged while in the camera but the Nikon battery must be removed. I may pick up a spare, looks like a replacement from Nikon is only about $23, while aftermarket batteries are even cheaper.
The Sony has both a viewfinder and an LCD screen, while the Nikon does not have a separate viewfinder. I rarely used the Sony's viewfinder anyway, as one of the things I like about digital cameras is the preview you get from the LCD on the back of the camera.
The S560 will shoot in continuous mode, and has different scene modes to account for different kinds of shots, e.g., portraits, on a beach, landscape, or action shots. I'm still going through the manual.
The macro mode seems to work well. Sample shot of my Smith & Wesson Model 28-2 (click thumbnail for full sized picture):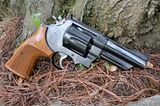 I still want to get a DSLR some day but don't want to spend the money on one now. The Nikon was $179 at Microcenter.