Last night I had a good time at the range with my dad.
Not feeling like chasing brass, but feeling that it was too long since I shot it, I brought my Smith & Wesson Model 28-2 .357 Magnum revolver. As always, I also had my Three-Screw Old Model Ruger Single Six in .22 LR.
Because my dad's gun club doesn't allow .357 Magnum on their indoor range, I shot .38 Specials in the big Smith. They were Winchester-Western 148 grain wadcutter target loads, which are very mild in a K-Frame, much less an N-Frame. The Model 28 of course ran like a top and shot these loads very accurately. I have a 35 shot group fired pretty quickly double action from 7 yards which can be covered by the bottom of a soda can.
I bought the Model 28 back in the mid-nineties. I traded an Astra 75 9mm towards it, plus maybe a little cash. It has a four inch barrel and Herret's Shooting Star stocks which came of my dad's six inch Model 28 (He didn't like them, I did. Go me.)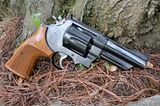 Click the thumbnail for a larger picture.
N-Frame .357s are the bee's knees IMO. I really want to get a Model 27 with a 5" barrel but they aren't exactly growing on trees.
I ran only about 24 rounds through the Ruger, single action, one-handed. My group was about two inches. The gun might shoot a bit better with target ammo but I keep a box of Federal high speed bulk pack .22 LR in my range bag along with the gun. (I still need to snap a good picture of the Ruger.)
Dad brought along his S&W Military & Police 9 autoloader. I put 10 rounds through it. It's a nice pistol but I'm happy that I got my Springfield XD-9 instead when I decided I wanted a plastic 9mm. The XD fits my hand better. Dad also brought along his five inch S&W Model 625, an N-Frame in .45 ACP. I have an older 625 and it's probably the most accurate handgun I own. I've used it to reliably hit old rotten green peppers and apples from about 20 yards when shooting double action. Here's a picture of my Model 625: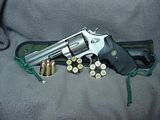 (The knife is a Camillus Becker BK-7. The clips are
RIMZ synthetic moon clips
.)