Last weekend I took a drive up to Seneca Arms in Green Lane, PA and saw that he had a preban Chicom AK in 5.56x45mm (.223 Remington). Yesterday I went back and asked to take a closer look, and found that it's a Norinco Type 84S, a pretty rare bird. Even better, it was
unfired
, as evidenced by the lack of any carbon on the piston end and bolt face. After a little bit of haggling it came home with me.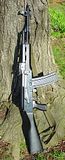 (Click thumbnail for full size pic.)
While unfired, the rifle came with only one magazine and was missing the factory box, manual, cleaning rod, and bayonet. It did have the cleaning kit in the buttstock.
The Type 84S was imported for only a year or two in the '80s, with imports being cut off by Bush I's 1989 ban. The rifle has the original factory black plastic furniture, a relatively heavy barrel with a 1:9" twist, and a chrome lined bore. The length of pull is a bit longer than most Chinese AKs, my guess is that it was designed with American shooters in mind.
The magazines for the Type 84S are specific to this rifle and due to the low number imported, aren't all that common. I've posted WTB ads on several web forums and should be receiving a 20 rounder in response to one of them. (Email me at davemarkowitz at gmail.com if you have any you're looking to sell.) After doing some research, it looks like AK-74 mags should work with some tweaking, and I'm going to try some ProMag .223 AK mags, which I've read will work OK for range use.
Based on my experience with my Arsenal SA M5 5.56mm AK, the Norinco should be even smoother shooting and have less recoil than either of my AR-15s in the same chambering. A range report will follow once I've shot the rifle.