This picture is a good example of the antigun hype that the Obama administration and its toadies in the media have been spewing, e.g., that Mexican drug cartels are being armed with weapons purchased in the US and smuggled south of the border (click the thumbnail for full asized pic).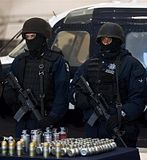 How can I tell that this is propaganda? A few reasons:
The round topped cylinders in the front of the picture are 40mm grenades as used in the M-79 and M-203 grenade launchers. You cannot go into a gun shop or go to a gun show and just pick these up. They are regulated as "Destructive Devices" by the National Firearms Act of 1934. Acquiring either a launcher or a single grenade requires you to fill out an application with the BATFE, pass a background check, and pay a $200 transfer tax on each item, over and above the purchase price.

The cylinders in the left background are either smoke, tear gas, or white phosphorous grenages. Smokes are legal to buy without any paperwork, I'm not sure about the tear gas or WP grenades, though they may be similarly unregulated on a Federal level. Either way, it's not like they're bombs.
Finally, the real telling piece, is the group of the circular objects with a little cylinder sticking out of the top, most numerous in the picture. What are these dastardly devices of mass destruction? Why, they are Combloc-surplus OIL BOTTLES. I have several which I acquired along with AK or Mosin-Nagant rifles.
Of course, to the unfamiliar, those deadly oil bottles look like grenades. Politicians and liberal antigun media types practicing dissimulation?
Naaaahhhh
.
Edit 3/21/09
: Well, this post seems to have drawn some interest from a couple of other blogs. Welcome! Please look around.